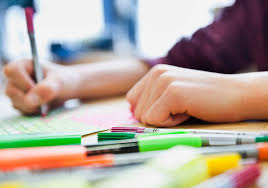 Understanding Dyspraxia
By Erica Patino, M.A. / The Understood Team
Hearing or suspecting that your child may have dyspraxia can stir a lot of emotions. Even though dyspraxia is fairly common, many people have never heard of it.
Dyspraxia can affect a child's ability to do a wide range of everyday physical tasks. These can include things like jumping, speaking clearly and gripping a pencil. Some kids have mild symptoms and others more severe. There are lots of ways to help with dyspraxia at home and in school. Learning more about it can help you find the most effective solutions for your child.
What is dyspraxia?
Dyspraxia isn't a sign of muscle weakness or of low intelligence. It's a brain-based condition that makes it hard to plan and coordinate physical movement. Children with dyspraxia tend to struggle with balance and posture. They may appear clumsy or "out of sync" with their environment.[1]
Dyspraxia goes by many names: developmental coordination disorder, motor learning difficulty, motor planning difficulty and apraxia of speech. It can affect the development of gross motor skills like walking or jumping. It can also affect fine motor skills. These include things like the hand movements needed to write clearly and the mouth and tongue movements needed to pronounce words correctly.
Dyspraxia can affect social skills too. Children with dyspraxia may behave immaturely even though they typically have average or above-average intelligence.
Kids don't outgrow dyspraxia. But occupational therapy, , speech therapyand other tools and strategies can help. Kids can learn to work around areas of weakness and build on their strengths.
Different Kinds of Dyspraxia
Dyspraxia can affect different kinds of movement. Professionals you speak to might break it down into these categories:
Ideomotor dyspraxia: Makes it hard to complete single-step motor tasks such as combing hair and waving goodbye.
Ideational dyspraxia: Makes it more difficult to perform a sequence of movements, like brushing teeth or making a bed.
Oromotor dyspraxia, also called verbal apraxia or apraxia of speech: Makes it difficult to coordinate muscle movements needed to pronounce words. Kids with dyspraxia may have speech that is slurred and difficult to understand because they're unable to enunciate.
Constructional dyspraxia: Makes it harder to understand spatial relationships. Kids with this type of dyspraxia may have difficulty copying geometric drawings or using building blocks.[2]
How common is dyspraxia?
Although dyspraxia isn't as widely discussed as other conditions that impact learning, like, it's believed to be fairly common. Roughly 6 to 10 percent of children show some signs of dyspraxia.[3]
Boys are affected more often than girls.[4] But many people with symptoms are never diagnosed, prompting some experts to dub it a "hidden problem."[5]
What causes dyspraxia?
Researchers don't know yet what causes dyspraxia. Many believe that genetics could play a role. Some scientists suspect dyspraxia may be caused by a problem with the nerve cells that send signals from the brain to muscles.
Researchers also believe that children who were born prematurely, had low birth weights or were exposed to alcohol in the womb may be more likely to have dyspraxia, though it's not clear why.[6]
Many kids with dyspraxia also have ADHD.
It's not unusual for schools to provide speech and occupational therapy.
You can use apps and other fun games to encourage your child to keep moving.
[1] "NINDS Developmental Dyspraxia Information Page." NINDS.nih.gov. National Institute of Neurological Disorders and Stroke. Web. http://www.ninds.nih.gov/disorders/dyspraxia/dyspraxia.htm
[2] Scalais, Emmanuel, Christian Nuttin, and Audrey Galluzzo. "Developmental Dyspraxia."Current Management in Child Neurology. By Bernard Maria. 3rd ed. Hamilton, Ontario: Decker, 2005. 240–45. Print.
[3] Diagnostic and Statistical Manual of Mental Disorders. 5th ed. Arlington, Virginia: American Psychiatric, 2013. Print.
[4] Ibid.
[5] Gibbs, John, Jeanette Appleton, and Richard Appleton. "Dyspraxia or Developmental Coordination Disorder? Unravelling the Enigma." Archives of Disease in Childhood 92.6 (2007): 534–39. Web. http://www.ncbi.nlm.nih.gov/pmc/articles/PMC2066137/
[6] "Causes of Dyspraxia." NHS.uk. National Health Service (UK). Web.http://www.nhs.uk/Conditions/Dyspraxia-(childhood)/Pages/Causes.aspx
[7] "Reading and Spelling." Dyspraxiafoundation.org.uk. Dyspraxia Foundation. Web.http://www.dyspraxiafoundation.org.uk/about-dyspraxia/reading-spelling/
[8] NCLD Editorial Team. "Common Warning Signs of Dyspraxia in Children Pre-K to Grade 2." NCLD.org. National Center for Learning Disabilities. http://www.ncld.org/types-learning-disabilities/dyspraxia/common-warning-signs-of-dyspraxia-in-children-pre-k-to-grade-2
[9] Diagnostic and Statistical Manual of Mental Disorders.
[10] Diagnostic and Statistical Manual of Mental Disorders.
[11] "Parent Center Listing." Parentcenternetwork.org. Parent Center Network. Web.